The Bay Shore School District Board of Eduction unanimously approved the resignation of superintendent Joseph Bond for the purpose of his retirement.

At a virtual Board of Education meeting on Feb. 24, the school board approved the resignation of Bond, who has served the district for six years and is set to retire at the end of the school year.
"I spent the last six decades serving, educating, coaching and leading others," Bond said at the meeting. "The time has come for me to spend more time with my family and to see what the next chapter brings."
During the meeting, trustees thanked Bond for his service to the Bay Shore district.

"Joe has been an exceptional superintendent, a true educator, and leader," board president Susan Gargan said. "Agree or disagree with his decisions, Joe has always put the students first. He has been dedicated to the district … he's been committed to the kids in programs, attending almost every single event that occurs in Bay Shore."

Gargan added that she feels fortunate that she joined the school board alongside Bond in 2015.

"I'm happy for him to be moving on in his life, but I'm certainly sad to be asking for this motion. .... You have absolutely served us well, and thank you," Gargan said.
Trustee Guy Leggio said Bond helped the board accomplish multiple goals while he was superintendent. "A lot of good things got done," he said.
Bond oversaw the planning and implementation of the pre-kindergarten center at the site of the former Bay Shore Armory, which was unveiled last year.

Under Bond's supervision, the district created a internal district learning program for the families of English Language Learners.

Additionally, Bond opted to bring a Suffolk County-wide pilot program to the district, which placed stop-arm cameras on school buses.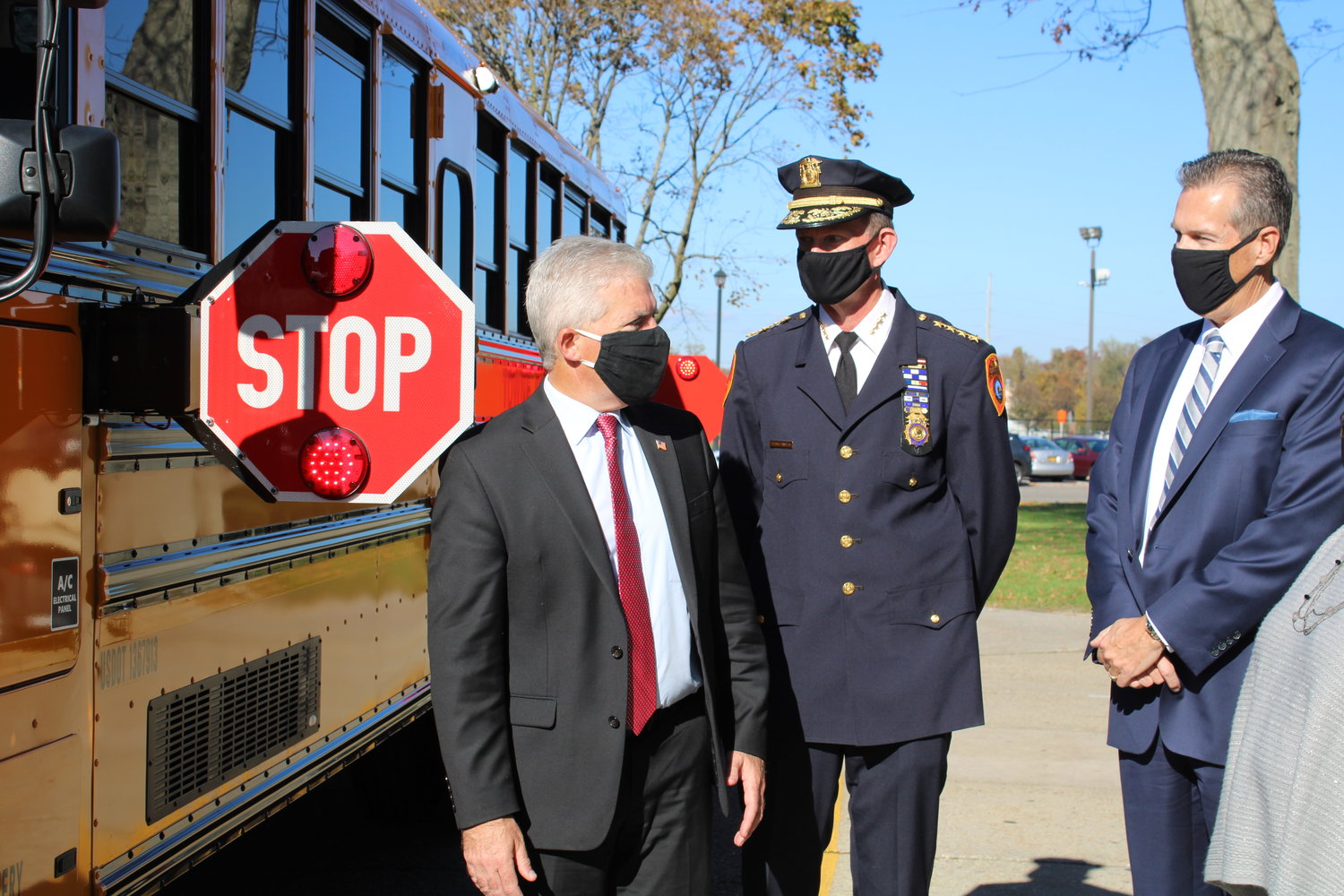 Suffolk County executive Steve Bellone, Suffolk County chief of department Stuart Cameron and Bay Shore superintendent Joseph Bond inspect a school bus with the new stop-arm camera equipment prior to a press conference at Bay Shore's district building Nov. 10, 2020.
Board vice president Andrew Arcuri said Bond "certainly earned the right to spend this additional time" with his family.
"It has been a pleasure working with you, Joe," trustee Louis Bettinelli said. "You came along at a time when we really needed stability, and you've definitely brought that to the table."
Trustee Craig Brewer echoed Bettinelli's sentiment: "I think you came at the right time. We needed a lot of stability."
Bond, of Islip, thanked board members for their commitment to the community.

"It's been the honor of my life to work with such a dedicated board," Bond said. "We've accomplished, as [Leggio] said, so much together. And we've moved the district forward." He noted that there's always more work to be done, but he knows the trustees are up for the challenge.

An East Islip High School alumn, Bond began his teaching career at South Middle School in the Brentwood School District. In 2010, he served as Brentwood's superintendent.
In 2015, he left the Brentwood district and became superintendent of Bay Shore School District. According to school district records, his contract was extended in August 2017 to run through June 2020.

The resolution also approved the resignation of the district's Director of Health, Physical Education & Athletics, Robert Panariello, for the purpose of retirement. Gargan also recognized his commitment to the district at the meeting.